GENERAL
The following procedures are applicable to KomyMirror.
INSTALLATION
Throughly Clean any grease, oil or dust out of installation area of the mirror with isopropyl alcohol.
Mark mirror location up per applicable installation drawing.
Remove entire seal peel covering adhesive tape on the back side of mirror (Fig.1).
Locate the mirror in place per location mark carefully and press it firmly with force more than 5kg/cm2.
Check the mirror for correct visibility (Fig.2).
Clean the mirror surface with ordinary neutral cleaning agent.
NOTE
Careful placement and installation are required because of tough relocation and removal once the mirror has been mounted.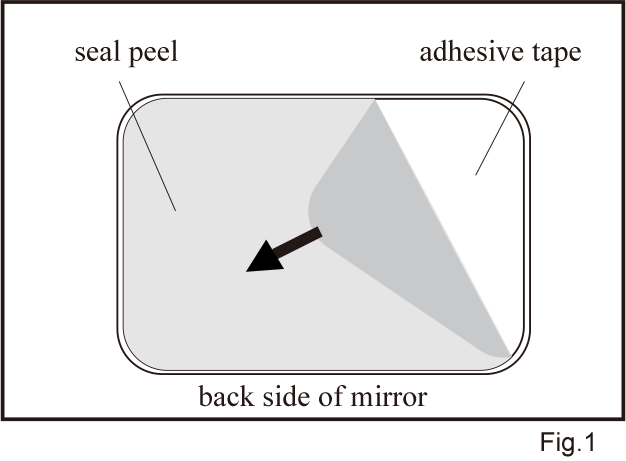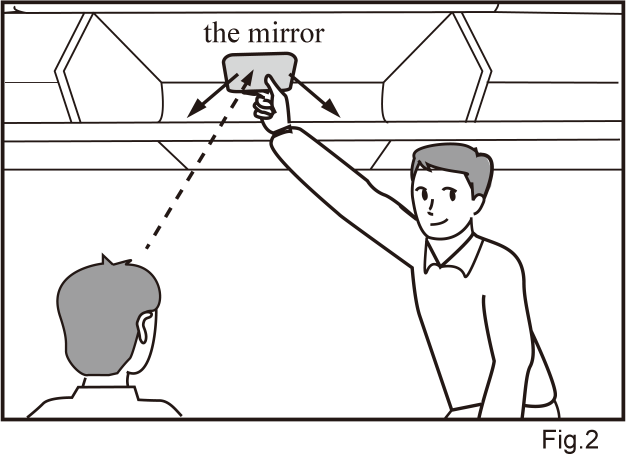 REMOVAL (IF NECESSARY)
Please prepare plastic-made headed hammer and plastic-made scraper (supplied by Komy, when needed).
Place the leading edge of the scraper at the edge of the mirror.
Get the edge of the scraper between adhesive tape and the panel which the mirror is placed by hitting the tail of the scraper repeatedly by the hammer Strength force must be gentle.
Peel the mirror off gradually and carefully to avoid possible damage to the panel until about eighty-percent area of adhesive tape is peeled off .
Peel off the mirror by hand gradually and carefully.
NOTE
Once the mirror is removed from the panel, the mirror cannot be used again.